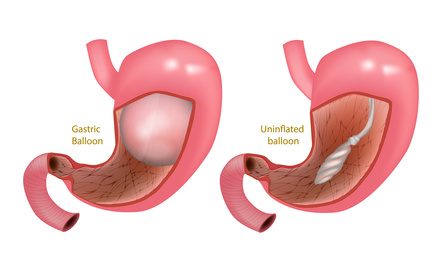 The gastric balloon is a short-term weight loss procedure that creates a feeling of fullness after small meals. The balloon helps in reducing hunger that allows you to control your meal portions sizes. The procedure can work along with your weight loss plan to help you achieve faster results. Here are the 10 things you should know about Gastric Balloon:
What is a Gastric Balloon?
A gastric balloon called Orbera is a small and soft silicone balloon, inserted in the stomach. The balloon partially fills the stomach and results in a sensation of fullness.
What is Gastric Obalon weight loss procedure?
While the balloon is deflated, it is inserted into the stomach through the mouth and esophagus. The process is carried out using a thin, flexible tube that has a light and camera attached on one end, called an endoscope. A mild sedative or anesthetic might be administered for the procedure. The procedure takes about 15 minutes and the patient can go home safely on the same day.
What are the new procedures?
Medical advancements have led to the development of a new type of gastric balloon that gastric pill capsule. The pill is swallowed with the help of a thin tube attached to it. When the pill sits on top of the stomach, the balloon is then inflated. No sedation is required for this procedure.
Is it right for you?
A gastric balloon is generally recommended for patients who are looking to lose weight before surgery to reduce surgical risks or it can also be used as a stand-alone, non-surgical treatment to lose weight. It is important to know that weight loss with a gastric balloon can be slower than other surgical weight loss methods.
Are you eligible for Gastric Balloon?
A gastric balloon is a popular option for people who cannot lose a large amount of weight by dieting, making lifestyle changes, and exercising alone; or, if you are facing obesity.
What are the benefits of Gastric Balloon?
One of the major benefits of the gastric balloon is that it can avoid invasive surgeries and the risks that come with it. The procedure does not take more than 15 minutes and does not cause pain. A gastric balloon is also cheaper than surgical options. While the procedure is a temporary solution but can assist in bringing your weight down.
How to prepare for Gastric Balloon?
Before commencing the procedure, the doctor will usually discuss the post-procedure diet to manage weight. The surgeon may also advise on weight loss exercise programs, which may help in weight loss.
Will you regain weight once the balloon is removed?
The gastric balloon has no long-lasting effects on the stomach. It does not reduce weight by itself, but is a temporary solution to control meal portions and make people feel full. This is why it is important to take action and get on a weight loss regimen at the same time.
Wrap Up
The Obalon weight loss procedure (gastric balloon) is a great weight loss option that can avoid surgery. Alternatively, the Obera balloon (gastric balloon) is a temporary solution that can assist you in losing weight. If you are looking for a reliable weight loss procedure, contact us by filling out our contact form, or simply call us at 469-620-0222.