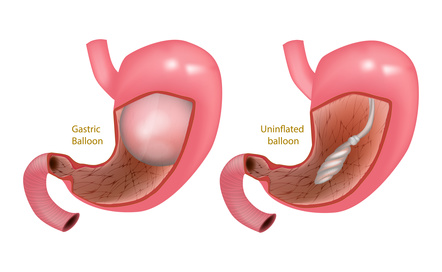 Orbera weight loss procedure is a non-surgical, FDA-approved weight loss treatment that involves the placement of gas-filled balloons in the stomach to promote a feeling of fullness and reduce hunger. After the Orbera weight loss procedure, patients have to follow a strict dietary plan to achieve the results to the maximum. In this blog, we will go through 15-day dietary advice that patients should follow after undergoing the Orbera weight loss procedure.
Days 1-3
During the first few days following the insertion of the gastric balloon, it is essential to consume a thin liquid diet. This helps your body adjust to the presence of the balloon. Restricting liquids only can make it difficult to meet your body's nutritional needs, therefore, it is important that you consume nutritious liquids only. All liquids should be entirely smooth with no lumps or solids, and should be thin enough to pass through a straw. Examples of recommended liquids include
Water
Low-calorie fruit squash
Diluted apple juice
Weak tea or coffee
Clear soup or broth
Sugar-free jelly,
Low-fat/low-sugar yogurt drinks,
Milk (semi-skimmed, skimmed, or 1%)
Flavored sugar-free water
Things to remember
During this stage, you should continue consuming the drinks mentioned earlier but gradually start incorporating soups with blended protein such as chicken, fish, meat, or pulses.
The soup should have a liquid consistency. You can add milk or milk powder to maintain the liquid consistency. Any lumps should be removed by blending.
Other recommended foods include build-up or Complan soup and drinks, Slimfast, and Ovaltine/Horlicks made with semi-skimmed milk.
Days 4-7
Sip drinks slowly, waiting for a minute or two between sips.
If your urine appears dark, you need to consume more fluid. Carbonated/fizzy drinks should be avoided as they may cause gas and bloating.
Drink at least 8 cups of fluids every day to keep yourself hydrated.
Days 8-15
By now, your stomach should be beginning to adapt to the balloon. During this stage, you should gradually transition from liquids to puréed foods.
The consistency of the food should be like that of smooth, thick oatmeal, which can be achieved using a blender or liquidizer to   the food.
Continue to drink at least 8 cups of fluid per day.
Recommended puréed foods include:
Puréed fruit/mashed banana
Cottage cheese, oatmeal
High protein soup made with chicken/meat/beans or lentils
Puréed bean and vegetable casserole
Puréed vegetable chili with mashed potato
Puréed beef/chicken/turkey/lamb or lean minced meat with vegetables
Puréed rice/pasta/potato
Considering Orbera Treatment? Talk to us
DFW Bariatrics is a trusted brand that offers this innovative procedure to patients who want to lose weight safely and effectively. With our experienced team of professionals, state-of-the-art facilities, and commitment to patient satisfaction, individuals can trust DFW Bariatrics for their weight loss journey. Talk to our skilled surgeons if you are planning for an Orbera weight loss procedure. To book an appointment, call us at 469-620-0222 or email at [email protected]. You can also fill out our contact form with your queries, and we will reply to the earliest.