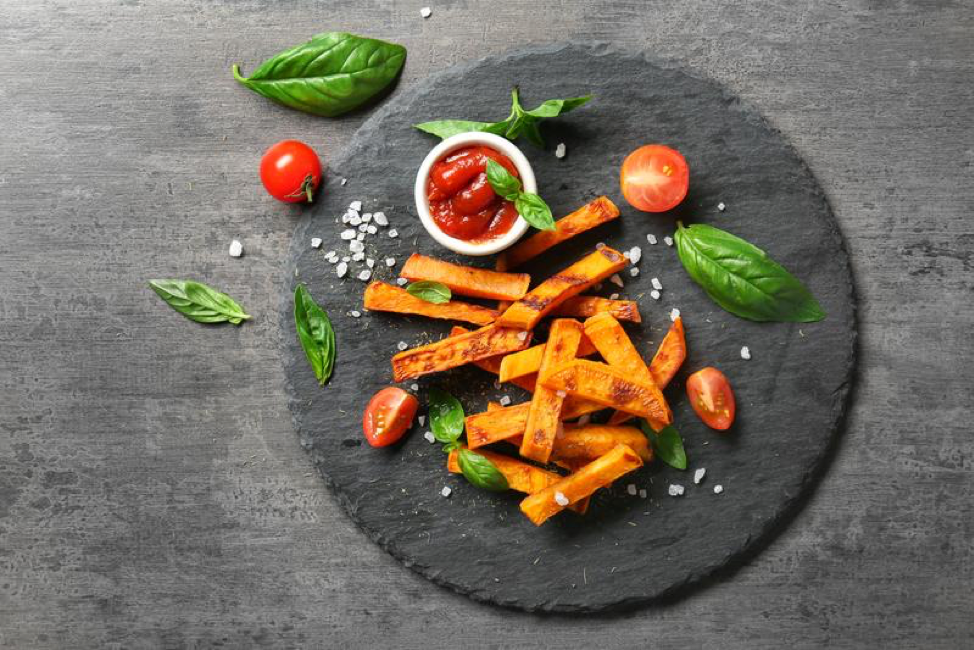 Watching your calories in an effort to lose weight doesn't mean that you need to cut all of the flavor from your diet. With a little creativity and knowledge about ingredient substitutions, you can satisfy all of those cravings while still maintaining your daily caloric goals. Here are four low-calorie cheats for when you need to satisfy that craving.
Sweet Potato Fries
A craving for salty foods can be hard to beat. Instead of ordering fatty fries from a drive through, consider preparing your own sweet-potato fries at home. Not only are sweet potato fries a good source of fiber, they also deliver considerable amounts of vitamin A and potassium. Do not negate the caloric benefits of sweet potato fries by frying them like a traditional french fry dish. Instead, consider coating them with a little olive oil and a pinch of salt and then baking them in the oven to the desired crispness.
Wheat Pancakes
As an excellent source of crucial B vitamins, whole wheat pancakes can be a healthy part of any diet. Simply substitute the white flour with wheat flour to produce a nutritious amount of whole-grain goodness. Do not reverse the nutritional value of the wheat pancakes by dousing them in butter and syrup. Instead, you can choose a natural fruit spread, low-sugar syrup or a small dusting of powdered sugar as a topping for your serving of pancakes.
Mushroom and Prosciutto Pizza
When you've got a craving for the cheesy goodness of pizza but don't want to blow your diet, look to a healthier alternative, such as a mushroom-prosciutto pizza. Prepare your pizza with a thin crust to cut even more calories and carbohydrates. Mushrooms and prosciutto combine to create an earthy taste while delivering a host of nutrients. As a bonus, you can add a leafy green vegetable, such as spinach, to add both freshness and nutritional value.
Egg Muffins with Turkey Bacon
Everything tastes better with bacon, right? Fortunately, you do not have to sacrifice its savory flavor when watching your waistline. Turkey bacon is an ideal substitute for pork bacon. Turkey bacon is naturally lower in fat and calories than its pork counterpart. Baking the turkey bacon rather than frying it will cut the calories and fat even further. You can implement this meat into meals for healthier outcomes. For example, you can wrap it around egg muffins for a delicious breakfast treat.
Eating healthily requires paying more attention to what you put in your body. However, a little planning and creativity can go a long way to ensuring that all of your cravings are met. If you're having troubles seeing the results, check out our weight-loss services. We offer both surgical and non-surgical treatments, so whatever you need, we can help you out!