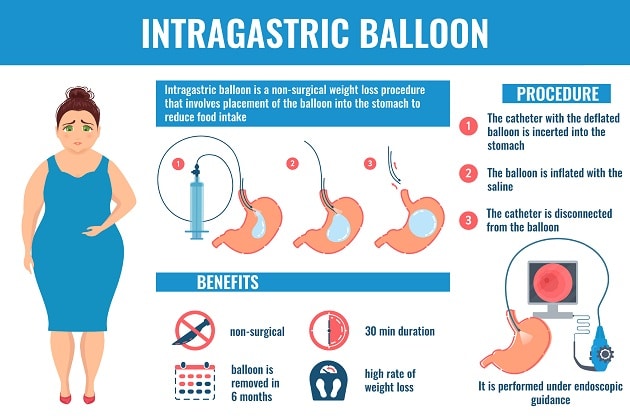 Obesity is a severe chronic disease prevalent in the United States of America and significantly increases the risk of cancer, heart disease, Type-2 Diabetes, stroke, and coronary artery disease while also decreasing the mortality rate of patients. While obesity can sometimes be attributed to bad lifestyle choices and eating habits, a lot of times it is due to a genetic predisposition, environment and other medical conditions. Gastric Bypass Surgery as a method to permanently reduce weight is a viable option but not ideal for everyone due to the accompanying side effects and risks which can cause irreparable long term damage. Let's look at some non-surgical methods as well as non-surgical weight loss procedures that are proving to be viable options for patients.
1. Orbera (Fluid-Filled) Gastric Balloon
Orbera Gastric balloon as a non surgical weight loss solution designed for individuals who can't lose weight through diet and exercise and have a BMI between 30 and 40. A fluid filled balloon is inserted in the stomach which limits the patient's food intake capacity. The balloon is removed after 6 months. The procedure demands following a strict lifestyle change on the part of the patient. They should also have no complicated medical history. The procedure involves its own set of complications and risks such as gastric ulcers, perforation and deflation, or complications with the balloon.
2. Obalon (Gas-Filled) Balloon System
Obalon is a swallowable balloon system as opposed to the insertion procedure used for the Orbera procedure. The Obalon Balloon takes up space in the stomach so that the patient consumes less food, thereby facilitating weight loss. It provides long term results and statistics reveal that 89% of patients maintain their initial weight loss for at least six months after removal of the balloon. It is an FDA approved non-surgical procedure that takes about 10-15 minutes in the office and gives twice the results compared to diet and exercise alone. It is completely reversible and has a proven safety profile with less than 1% reported adverse cases.
3. Endoscopic Sleeve Gastroplasty
In Endoscopic Sleeve Gastroplasty (ESG), surgeons use an endoscopic suturing device to constrict the stomach and create a sleeve from inside it. It is a relatively new minimally invasive bariatric procedure introduced in the US only a few years ago and is performed on patients under the influence of general anaesthesia. It is recommended for patients with a BMI of 30 or above for whom diet and exercise have failed to deliver results as well as those who don't qualify for bariatric surgery. Statistics reveal that patients lose more than 15-20% of their original body weight within the first year of the procedure and it reduces the risk of various conditions such as gastroesophageal reflux disease, Type-2 diabetes, and heart problems. It is a non-surgical procedure which involves no pain, has a low risk profile, enabling patients to return to normal life within 24-48 hours.
Final Words
Minimally-invasive and non-surgical procedures eliminate or reduce common risks and side effects associated with surgery and take up significantly less time and effort on part of the patient. When you incorporate the necessary lifestyle changes, the procedures can deliver miraculous results in respect of patients' physiological and psychological health. Many people make a 180 degree turn in their personal lives after undergoing the procedures. If you're considering going for bariatric surgery in Dallas, look no further than the DFW Bariatrics and General Surgery of Dallas. To get answers to all your questions or book an appointment, call us at 469-620-0222 or fill our contact form.