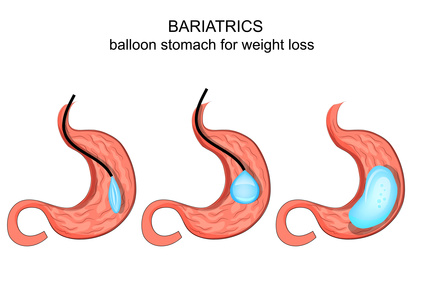 Gastric balloon surgery is a widely performed bariatric procedure that involves implanting a temporary balloon into the patient's stomach. The balloon occupies a part of the patient's stomach, reducing the person's food intake capacity, reducing hunger, and allowing them to feel full and satisfied on less food. The procedure, along with a strict diet and exercise plan, helps patients in losing those extra pounds. If you too have been following a strict diet plan, but have been unable to get in shape, the weight loss experts at DFW Bariatrics and General Surgery can help. Continuing on the subject, this blog some commonly asked questions about gastric balloon surgery. Read on.
What is Gastric Balloon surgery?
A gastric balloon is a non-surgical, minimally invasive weight loss procedure that creates a feeling of fullness faster after smaller meals. It not only reduces the food intake capacity, but also curbs the production of hunger-causing hormones, making it easier for patients to control their diet.
What are the types of Gastric Balloon surgery?
There are three types of gastric balloon surgery:
Orbera Balloon
Orbera is a soft inflatable balloon that is implanted using an endoscope. After implanting a deflated balloon, it is then filled with a saline solution. The procedure lasts about 15 to 20 minutes and patients are allowed to return home the same day. It does not require a prolonged recovery period that is usually associated with other invasive bariatric procedures.
ReShape Integrated Dual Balloon
The ReShape Integrated Dual Balloon is a non-surgical weight loss procedure that involves implanting two balloons in the patient's stomach. Often prescribed to obese people with comorbidities, such as high blood pressure, diabetes, or high cholesterol. Reshape works very similar to Orbera but has two balloons, each of smaller volume.
Obalon Balloon
Obalon weight loss procedure involves swallowing 3 capsules over a minimum of 4 weeks. The capsules, similar to a pill, have a thin tube attached for inflation purposes inside the stomach. The position of the balloon capsule in the stomach is monitored through X-ray. If the capsule is in the correct place, the surgeon inflates the balloon with gas and removes the tube from the mouth. The procedure requires no anesthesia and usually takes less than 10 minutes.
Are there any risks or complications?
Although bariatric procedures are not considered as major surgeries, there are some potential risks and side effects. All side effects are rare, but more common ones  include:
Nausea
Vomiting
Cramping
Abdominal pain
Although there are rare instances of balloon deflation, blue or green urine may indicate that the balloon has deflated. In such a case, contact the doctor, immediately.
Wrap Up
No matter the type of gastric balloon surgery you have performed, make sure you are in expert hands. If you are looking for a gastric balloon surgery expert, look no further than DFW Bariatrics and General Surgery. We are a team of experienced surgeons specialized in minimally invasive weight loss procedures of all types, including Orbera, ReShape integrated dual balloon, or Obalon balloon, gastric bypass, and other weight loss procedures. To learn more about your surgical and nonsurgical weight loss treatment options in Dallas-Fort-Worth, simply call 469-620-0222 or fill out our contact form and we will get back to you, shortly. To schedule an appointment with one of our consultants, click here.