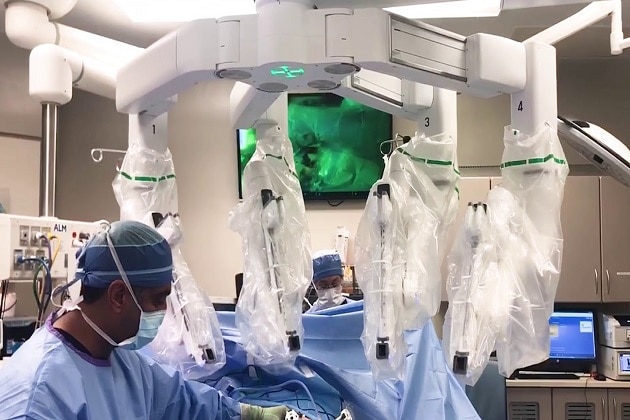 Given the challenges faced by bariatric surgeons when operating on patients with a BMI greater than 50 kg/m2 and a thick abdominal wall, robotic bariatric surgery presents a solution that can better address such complexities. Robotic surgery is performed with the help of a DaVinci Robotic System that allows surgeons to use a magnified, computer-aided, 3-D visualization platform to make small incisions in the patient's abdomen. During the procedure, surgeons make movements using four robotic arms which are translated by the robot into ultra-precise movements inside the body. The DaVinci System enables weight loss doctors to perform even the most delicate and complex procedures with unmatched precision and results. In this blog, we look at answers to five commonly asked questions about robotic bariatric surgery. Read on!
1. What is Robotic Bariatric Surgery?
Robotic surgery is a minimally invasive surgery that uses small incisions or existing entryways into the body, causing less pain and faster recovery. The risk of complications is also drastically reduced.
How is Robotic Surgery Different From Traditional Surgery?
During a traditional weight loss procedure, the surgeon stands next to the operating bed and uses hand-held surgical instruments to perform the surgery. During a robotic weight loss procedure, the surgeon is seated at a console and uses their hands to maneuver the arms and instruments of the da Vinci system. From th3 console, weight loss doctors have access to the 3D images and can rotate their hands in degrees and angles that would otherwise be impossible to achieve.
What are the Advantages of Robotic Weight Loss Surgery?
Robotic bariatric surgery offers many advantages which include:
Faster Recovery
Less Pain and Scarring
Fewer complications
Low risk of infection and gastrointestinal leaks
Low risk of follow-up surgery
4. What is the Recovery time for Robotic Surgery?
Unlike traditional bariatric surgical procedures, robotic weight loss surgery involves use of the latest technology and most precise instruments to make small incisions in the patient's abdomen. The minimal scarring typically means quicker recovery and returning to normal life within a few days.
5. Is Robotic Surgery Covered in Insurance?
Robotic surgery is covered by many insurance plans but the coverage will depend on the patient's individual plan and benefits package.
Wrap Up
Robotic Surgery was introduced in the USA by the Food and Drug Administration in 2000. Since then, it has helped doctors to improve weight loss outcomes, decrease complications, and reduce the number and size of incisions even in delicate and complex cases. It is one of the best weight loss surgeries that can help you achieve your weight loss goals easily without any big scars and incisions. To know more about Robotic Bariatric Surgery or discuss if you are a candidate for the procedure, get in touch with DFW Bariatrics and General Surgery in Dallas by simply calling 469-620-0222 or writing at [email protected].