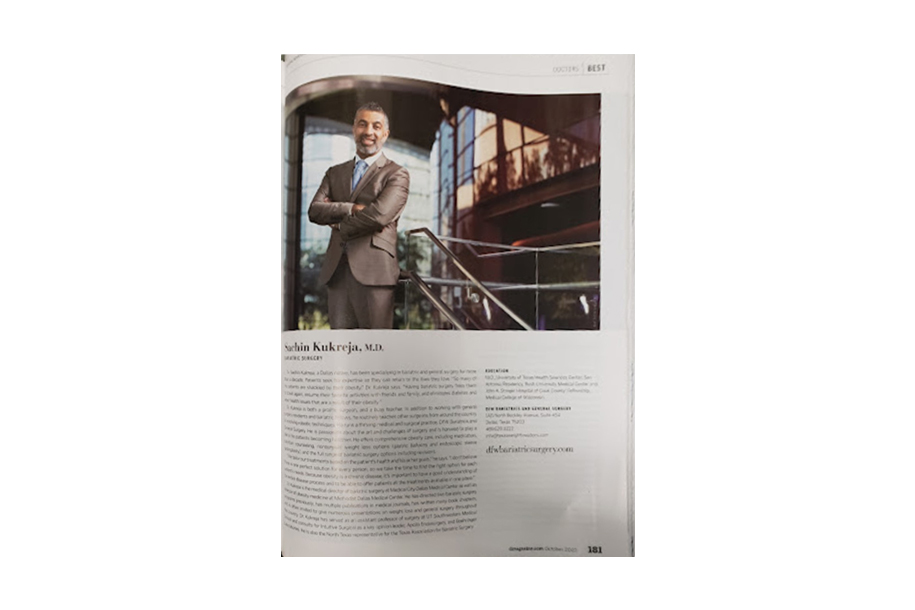 It's that time of the year again when the Dallas community celebrates leading doctors, and the results for the D Magazine 'Best Doctor' Award were recently announced. Dr Sachin Kukreja of DFW Bariatrics and General Surgery is once again the winner for the fifth time in a row! Dr. Kukreja is Board-certified in Obesity Medicine and Fellowship Trained in Minimally Invasive and Bariatric Surgery. He completed medical school at the University of Texas Health Sciences at San Antonio, after which he did General Surgery training at Rush University Medical Center and John H. Stroger Hospital of Cook County. He then did a Minimally Invasive and Bariatric Surgery Fellowship at the Medical College of Wisconsin. Furthermore, he has had quite an illustrious career marked by a plethora of achievements, including founding the Bariatric surgery program at Mount Sinai Hospital in Chicago in 2010, being the highest volume Robotic General Surgeon and doing the most number of bariatric surgeries in the VA system. He is currently the Medical Director of Bariatric Surgery at Medical City Dallas Hospital and the Medical Director of Obesity Medicine at Methodist Dallas Medical Center. He is excited to teach young surgeons and mentors surgeons on a weekly basis from around the country who come to watch him perform robotic bariatric surgery!
The award, a yearly event, is the result of a poll of physician peers across different specialties. That is why it is such a great honor to be recognized five times in a row. The team at DFW Bariatrics and General Surgery offers a number of medical interventions covering general surgery, weight-loss surgery, and non-surgical/medical weight loss. The D Magazine 'Best Doctor' Award recognizes doctors that are 'both exceptionally skilled and compassionate.' The Dallas medical community and patients have once again reaffirmed their trust and appreciation for the services that are rendered by Dr. Kukreja and his team at DFW Bariatrics.
The Poll
D Magazine conducts a confidential poll of thousands of local doctors across different specialties, including general practitioners, internists, and family practice physicians – those who typically make recommendations and referrals. The poll requests local doctors across 39 different specialties to name three doctors to whom they are ready to send their loved ones or patients. An opportunity to participate online at www.dmagazine.com is afforded to other licensed doctors in Texas that are not part of the poll. Specialties that are broad and in which patients have little to no say, such as anesthesiology and pathology, are excluded from the poll. The results are tallied by an outside marketing firm and the list reviewed by esteemed local physicians prior to publication.
Let's Talk Minimally Invasive Weight Loss Surgery
DFW Bariatrics and General Surgery in Dallas, formerly MISADallas, offers bariatric surgical interventions for weight loss and other conditions using the latest technology. The practice of Dr. Sachin Kukreja, we have almost a decade of experience serving Dallas and nearby communities. Get in touch with the 5-time Best Doctor today to discuss available minimally invasive weight-loss surgical (and non-surgical) options. Simply call 469-620-0222 or email us at [email protected].