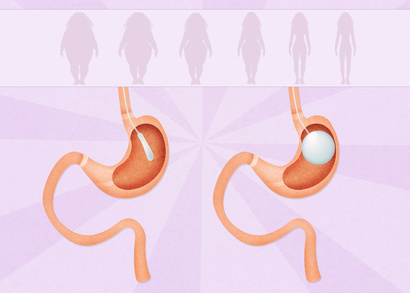 Gastric balloon surgery involves implanting a silicone balloon to occupy a part of the patient's stomach, leaving less space for food. The reduced food intake capacity, along with a strict diet and exercise regime, helps patients get rid of those extra pounds and achieve their ideal weight. Gastric balloon surgery is one of the most widely prescribed bariatric procedures, for its extremely low risk. If you too have been following a strict diet plan, but have been unable to get in shape, the weight loss experts at DFW Bariatrics and General Surgery can help. Continuing the discussion, in this blog, we cover all you need to know about gastric balloon surgery. Read on.
What is Gastric Balloon Surgery?
Gastric balloon or endoscopic intragastric balloon surgery is a modern, non-invasive weight-loss procedure that limits the amount of the patient's food intake, which also reduces the production of hunger-causing hormones. The surgery is ideal for people who are overweight or obese, and looking  for a non-invasive procedure to get a grip on their weight.
Types of Gastric Balloon Surgery
Orbera Balloon
In the Orbera balloon procedure, an endoscope is used to insert and implant a silicone balloon into the stomach. The surgeon injects a deflated silicon balloon, which is then filled with  saline. The procedure lasts about 15-20 minutes and does not entail a prolonged recovery period that is usually associated with invasive bariatric procedures.
Obalon Balloon
Obalon balloon is another type of gastric balloon surgery that works on the same fundamentals as Orbera balloon. The difference between the two procedures lies in the way the balloon is implanted. In the obalon balloon procedure, the patient is prescribed three capsules, each containing a silicon balloon, administered over a duration of 1-3 months. Once all the balloons are removed, an endoscope is used to check for any complications. These balloons are swallowed in the office and placement is confirmed by xray.
Possible Side Effects
Every surgical procedure, whether it is invasive or non-invasive, has a number of possible side effects. In case of gastric balloon surgery, a few side effects include:
Ulcers
Blood Clots
Infections
Bowel Obstruction
Gastrointestinal Leaks
Vomiting
Hernias
Breathing Problems
Wrap Up
Whether you go for Orbera or Obalon balloon surgery, it is essential to make sure you are in expert hands. If you are looking for an experienced gastric balloon weight loss procedure expert, look no further than DFW Bariatrics and General Surgery. We are a team of experienced bariatric surgeons specialized in minimally invasive weight loss procedures of all types, including orbera balloon, gastric bypass, and other weight loss procedures. To learn more about your surgical and nonsurgical weight loss treatment options in Dallas or Ft. Worth, simply call 469-620-0222 or fill out our contact form and we will get back with you, shortly.  To schedule an appointment with one of our consultants, click here.