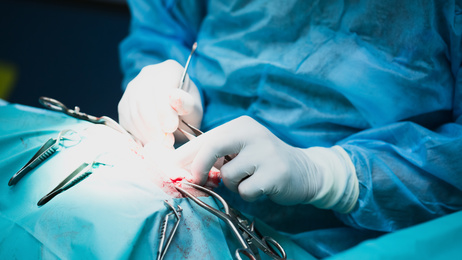 A large number of people around the world struggle with obesity, and even after trying out numerous dieting and exercise programs, many of them are unable to lose weight. That is a symptom of morbid obesity – a reason that qualifies an individual for a weight loss procedure such as lap band surgery, for which they can always count on the bariatric specialists at DFW Bariatrics and General Surgery. Continuing on the subject, we present all you need to know about lap band surgery. Read on.
Who qualifies for Lap Band Surgery?
Lap-Band Surgery is commonly recommended to obese individuals who have a BMI of 35 or above. The Lap-Band Surgery can also be recommended to patients with a BMI of 30 or above if they have one or more obesity-related health issues such as sleep apnea, hypertension, diabetes and other similar comorbid conditions. Your doctor may also run some diagnostic tests to determine whether lap-band surgery is suitable for you.  
How does Lap Band Surgery work?
The Lap Band Surgery is performed using a laparoscope. The surgeon inserts an adjustable ring around the upper part of the stomach. It will create two pouches; the one at the top is a small pouch that holds food and the other one at the bottom is a larger pouch where digestion takes place. In the port of the band, saline is inserted upon which the band tightens around the stomach creating a restriction. It is the restriction that makes the person feel full faster than usual and controls the digestion process which makes them feel full for longer periods.
What are the benefits of Lap Band Surgery?
Lap-Band surgery has a number of advantages, such as:
A reversible procedure.

Less invasive. Does not involve any cutting or stapling of the intestines or stomach.

The band can be customized to your weight loss needs.

Provides gradual weight loss, which helps retain the skin's elasticity.

Does not tamper with the chances of conception.

Minimum hospital stay.

Resume daily activities in 2 or 3 days after the surgery.
How to prepare for Lap Band Surgery?
Although lap band surgery is known to deliver positive outcomes in most cases, patients, however, should switch to a liquid diet before and after the surgery, as it helps with the surgical and healing process. When consulting with your Lap Band Surgery Fort Worth TX surgeon, you can discuss, in depth, all the precautions, side effects or complications that may be involved with the procedure.
Last Word
Lap Band Surgery aims to limit the person's food intake, suppress appetite, and slow down digestion. The real success is in the individual's maintenance of healthy lifestyle particularly in their eating patterns. In case the procedure does not bear the expected results or the patient resolves to their co-morbid conditions, a sleeve gastrectomy or gastric bypass can be recommended, in which, a part of the stomach is removed or intestine rerouted. If you wish to learn more about the procedure or would like know which bariatric procedure is right for you, speak with a bariatric surgeon at DFW Bariatrics and General Surgery. Book an appointment online or call 469-620-0222.