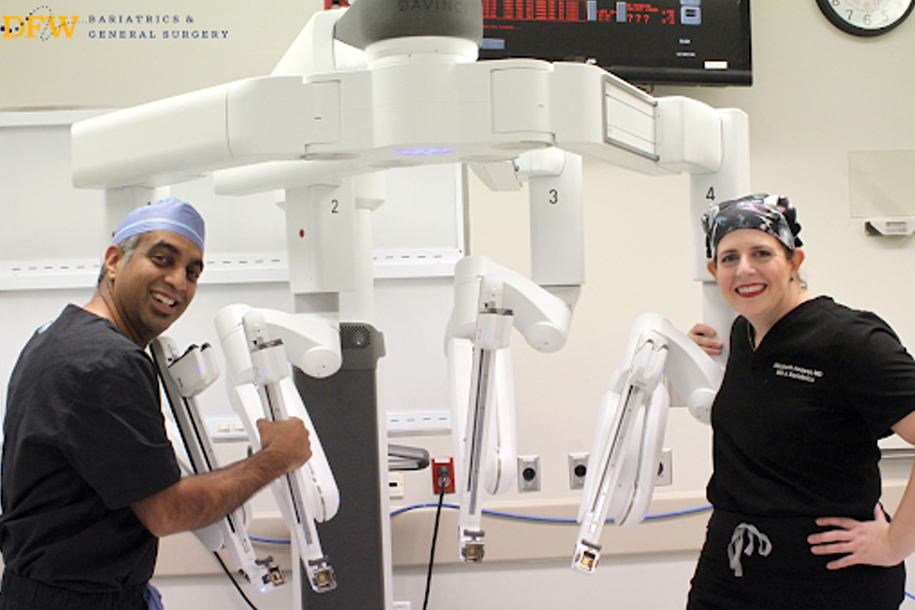 Weight loss surgery is an effective medical procedure that helps millions of people tackle obesity by delivering excellent results. While weight loss surgeons are adept at carrying out this procedure safely and with precision, technological advancements help increase the precision, reduce recovery results, and a host of other benefits with the help of specially designed robots. Leading surgeons can answer all your questions about robotic assisted surgery in DFW and surrounding areas.
Let's take a closer look at everything you need to know about robotic weight loss surgery.
What Is Robotic Weight Loss Surgery?
Robotic weight loss surgery refers to bariatric surgery in which the surgeon uses robotic arms that have much better flexibility than human arms. The robotic "hands" are controlled using a console, which gives the surgeon a 3-D view of the operating area. The movement of the surgeon's hands is translated to the robotic hands in real-time as they carry out the procedure inside the patient's body.
Key Benefits Of Robotic Weight Loss Surgery
Robotic weight loss surgery is a more precise and beneficial procedure as compared to traditional surgery. The advanced robotic system enhances the dexterity and visual field of the surgeon, while increasing motion and allowing angular movements that can only be executed by mechanical hands. The procedure helps reduce pain and scarring, lessen complications, and decrease blood loss. As it is a more precise procedure that uses smaller incisions, the hospital stay and recovery time are drastically shortened, allowing patients to get back to their daily life in no time.
What To Expect Before Robotic Weight Loss Surgery?
Before you appear for a robotic weight loss surgery at DFW Bariatrics And General Surgery, you'll be requested to undergo a complete medical examination that checks your eligibility for the procedure and helps put together a detailed medical report that is invaluable during the surgery. During a one-on-one consultation with a medical expert, you'll be asked about your expectations from the surgery and even get advice on a diet plan that you must follow for some time before the procedure.
What To Expect During Robotic Weight Loss Surgery?
Firstly, you will receive general anesthesia before the robotic weight loss surgery starts. Once it starts to take effect, the surgeon will proceed to make small incisions in your abdomen. The small incisions are enough to allow the robotic instruments to enter and carry out the medical procedure under the guidance of the surgeon.
What To Expect After Robotic Weight Loss Surgery?
Robotic weight loss surgery offers enhanced safety and precision, allowing patients to recover in a much shorter period. The majority of patients need to only spend a night at DFW Bariatrics And General Surgery and can go home just a day after their surgery! Patients get relief from post-surgery pain in a few days, and are advised to stay on a liquid diet for two weeks to allow the stomach ample time to heal.
Conclusion
The surgeon will also give you advice on post-surgery diet and a host of other issues to promote quick recovery, eliminate the possibility of any complications, and prevent a relapse. Dr. Sachin Kukreja of DFW Bariatrics And General Surgery is a proficient minimally invasive weight loss expert who has helped thousands of patients battling overweight issues. When looking for a leading center for weight loss surgery in Dallas, DFW Bariatrics And General Surgery is the place to go. Schedule an appointment or call at 469-620-0222. You can also email [email protected] .