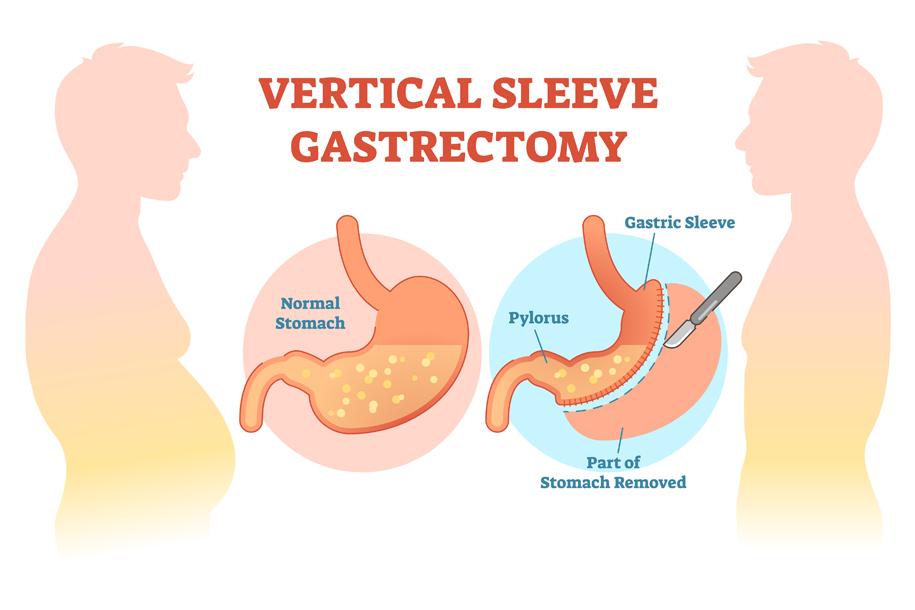 Sleeve gastrectomy is a common bariatric procedure that involves surgically removing about 80 percent of the stomach. The resultant stomach is a banana-shaped pouch that reduces food consumption and aids weight loss. Sleeve gastrectomy helps tackle severe obesity and gives patients a new lease of life. DFW Bariatrics and General Surgery is a leading centre for bariatric procedures with leading surgeons and state of the art technology. Our experienced doctors offer laparoscopic sleeve gastrectomy surgery as a surgical intervention to obesity.
If you are considering undergoing sleeve gastrectomy surgery in Dallas, here are five features of the procedure that make it a favourable choice:
1. Does Not Affect Intestine or Absorption
Unlike other Bariatric procedures like a Gastric Bypass or a Duodenal Switch Surgery, a Sleeve Gastrectomy does not impact the intestine in any way. It makes it a relatively simple procedure and patients have better chances of qualifying as candidates for the procedure compared to other options. To learn whether you are a candidate for a Sleeve Gastrectomy procedure, talk to our experienced team that specializes in Gastric Sleeve procedures.
2. Outpatient Procedure
Sleeve Gastrectomy Surgery, in most cases, is performed as an outpatient procedure in many cases unless a patient has unusual medical circumstances. It does not require patients to get admitted to the centre or stay overnight. DFW Bariatrics and General Surgery's team of medical experts handholds patients for a smooth preoperative and postoperative experience. This helps patients to have a quick recovery and positive outcomes from the procedure.
3. Effectively Tackles Obesity-Related Ailments
Obesity is a leading cause of diabetes, sleep apnea, high blood pressure, cholesterol, and many other ailments. A sleeve gastrectomy procedure helps patients lose weight and improve metabolism. It tackles the aforementioned obesity-related ailments and helps improve the overall medical parameters of a patient.
4. Lesser Chances Of Nutritional Deficiency
The sleeve gastrectomy surgical procedure seldom leads to nutrition and vitamin deficiencies, as it does not involve bypassing the intestine. It minimizes the size of the stomach without impacting the digestive tract and digestive process. There is very rarely a need for patients to consume vitamin supplements after sleeve gastrectomy surgery. DFW Bariatrics and General Surgery helps patients with a sustainable postoperative diet plan for optimal nutrition and overall good health.
5. Involves Minimal Scars and Incisions
DFW Bariatrics and General Surgery offers a laparoscopic approach to sleeve gastrectomy surgery. It involves making small incisions of 1cm or less on a patient's abdomen to insert a camera and laparoscopic tools required for the procedure. Our team of surgeons are specialists in laparoscopic and robotic bariatric procedures, ensuring your body shows no sign of surgery or Incisions.
Last Word
Obesity compromises your quality of life and poses a threat to your overall well being. If exercise, diet control, and other non-surgical weight loss methods are ineffective, bariatric procedures offer obese people a chance to recalibrate their health. DFW Bariatrics and General Surgery is a reputable centre for bariatric care, offering both surgical and non-surgical weight loss options. Reach out to us to discuss the various bariatric surgery options in Dallas. Call 469-620-0222 or email [email protected].