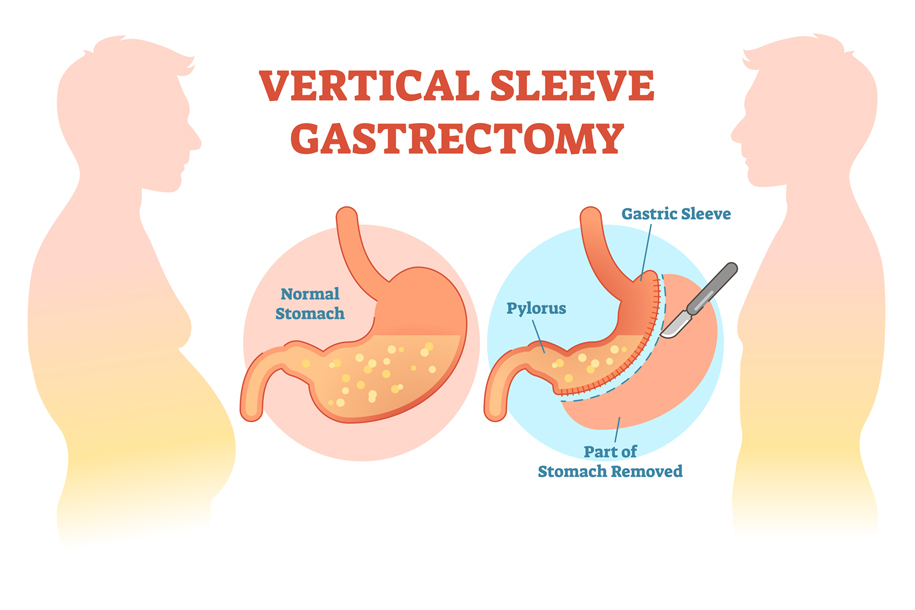 Many people try different traditional weight loss solutions like physical exercise and diet, without noticeable results. The best way to shed those extra pounds and maintain the weight loss for an extended period is undergoing bariatric surgery. There are different types of bariatric surgery treatments available in Dallas, Texas, including gastrectomy procedures & techniques. Sleeve gastrectomy can lead to successful weight loss in a relatively short amount of time. Continue reading as we share a basic guide to understanding the sleeve gastrectomy weight loss procedure.
What is Sleeve Gastrectomy?
Sleeve gastrectomy, commonly known as vertical sleeve gastrectomy, is a weight-loss surgical procedure. It is usually done laparoscopically or robotically, which involves inserting small instruments into the upper belly. About 80% of the stomach is removed during a sleeve gastrectomy procedure, leaving a tube-shaped stomach about the size and shape of a banana. As a result of the procedure, the amount of food people can consume is limited. Furthermore, the process causes hormonal changes that aid weight loss. The same hormonal changes that help people lose weight also improve health conditions like high blood pressure and heart disease.
Benefits of the sleeve gastrectomy procedure
The following are some of the benefits of gastric sleeve surgery:
It helps reduce the feeling of hunger
When compared to gastric bypass, the sleeve gastrectomy procedure takes less time
The intestines are not rerouted in this procedure
Patients experience no dumping syndrome after the operation
The intestines are unaffected by the treatment. As a result, the pylorus remains intact and sugars get enough time to break down.
There are no foreign items bodies  in the body after the procedure (as compared with lap banding)
You will start losing weight almost instantly, and the weight loss and body contouring process will continue through the course of 18 months. The first year after the surgery is when the majority of weight loss occurs.
Eligibility criteria for sleeve gastrectomy
Before you opt for a sleeve gastrectomy in Dallas, you need to establish whether or not you are eligible for the procedure. In general, sleeve gastrectomy surgery may be an option for you if you meet the following criteria:
If your BMI is 30 or greater, and
You have serious weight-related health concerns, such as type 2 diabetes, high blood pressure, or severe sleep apnea.
You must also be willing to make a long-term commitment to lifestyle changes. You also should commit to a long-term follow-up plan, which includes monitoring your nutrition, lifestyle, and medical issues.
Final word
If you want to lose weight in a short length of time, gastric sleeve surgery is the way to go. It comes with a number of advantages, including speedy recuperation and wide insurance coverage. However, it is crucial to commit to a healthy lifestyle in order to achieve long-term weight loss outcomes. During the first few months after weight-loss surgery, you'll need to visit your doctor for regular medical examinations to monitor your health. If you are considering undergoing sleeve gastrectomy in Dallas, feel free to call 469-620-0222 or email [email protected]. Our experienced surgeons at DFW Bariatrics and General Surgery will guide you on the right path to successful weight loss.